I don't think of myself as an "expert" on Paris.  But,  I've been to the City of Lights many times in the past fifteen years that would place me on a level of being comfortable enough that I can find my way around, understand a good deal of the language, speak a small amount of the French language—enough to get the point across, and have acquired some savvy in how to make the most of my visits.
I'm not jaded but after driving past the Eiffel Tower for many, many years, I keep forgetting to tell people to visit it.  So…if you're going to be in Paris at least hang out on the grounds for some good photo ops of this gorgeous structure!
Paris, like New York City, is my happy place.  I'm definitely a "City Girl" and am at my best when I'm in a large city—there's always something to do and Paris personifies that vibe.
You're going to Paris for the first time and you've been planning this trip for a long, long time.  You've been saving your money. You've been perusing the internet to research museums, restaurants, sights, hotels, and studying "what French women wear".
First things first.  Stop studying what French women wear. Do not look at online articles or Instagram posts of how to dress like a French girl and all that fluff.  The fact is unless you are in the midst of the 16h arrondissement or sauntering on Avenue Foch, you will be more likely to see women and men dressing more like patrons of any other major city.
Seriously.  Do not dress like this when you are in Paris.  A beret is fine on it's own. In the winter.  A Breton striped shirt is fine on it's own.  In the summer at the beach.  Together they say "I'm trying so hard to look French". Nobody dresses like this in Paris.  Trust me.
Also, try not to make your itinerary too ambitious.  Paris is a city that was made to be savored.  Be a flaneur or a Flâneuse.  Wander the streets.
Walk till you need to rest your feet!
  Take note of the beauty in window displays.  Stop at a square to sit and people-watch.  Head to a centuries-old, musty-scented church for reflection (even if you are an atheist—honestly, you will still enjoy) and to appreciate the artistry of the icons, stained glass and so on.
Take it easy.  Walk around.  Stop and take a good look at the beauty of the city!
With that said, let's talk!
Decide what you want to concentrate on: This might sound silly but it makes sense. Are you a museum person?  Are you a food person?  Ballet/Opera person?  History Buff?  Are you comfortable seeing the city on your own, or would you feel more comfortable in a small tour group?  Make what you really love to be the focus of the trip.    Paris has a ton of museums and sites to see.  Make a list. Make a couple of lists and narrow those lists down to "Must See's".
Below is a listing of some of the sites that I enjoy and have been more than once. This by no means anything that you must do—it's just subjective.
Les Invalides   This is such an under-appreciated museum with tourists. I guarantee if you visit this museum, you will be both fascinated and intrigued by what wonders are inside.  And Napoleon's tomb is here.  It's a great way to spend a morning or afternoon.  I tell all my friends and family to stop here!
This is it. Napoleon's Tomb at Les Invalides–but there's so much more here and it is an incredibly interesting museum!
Musee d'Orsay__ For some (such as yours truly), the Louvre can be a bit crowded and overwhelming.  This is my personal favorite museum in Paris.  The collection of Impressionism is outstanding and might I add that when I saw Manet's "Luncheon on the Grass" up front and personal, I started to cry. I swear to you this is true.  I was just moved to tears.  In addition, there's quite the collection of Gustave Courbet paintings and he's my favorite artist of all time.  He was a bit of a bad boy and I love that!  Regardless, this is a very "doable" museum and is just very easy to get around because it isn't overwhelmingly huge.  Try to get there early in the morning because the lines get long!
Manet's "Luncheon on the Grass" is just one of the many wonders of the Orsay.  I definitely would recommend this for a first Paris visit vs. the Louvre!  Just my opnion. It's less overwhelming!
Musee de L'Orangerie at the Tuileries  Another wonderful museum, smallish and always a great exhibit.  Claude Monet's Water Lillies are permanently housed here.  And might I add, if you don't want to deal with the summertime crowds at Giverny, go see this.  You will thank me later.
There's much more to see at the musee l'orangerie but the big attraction here is Manet's Water Lilies.  Late afternoon is a good time to visit this museum!
Musee du Luxembourg  Another one of my favorites because it's small. This museum has the greatest exhibits ever. We saw the Alphonse Mucha exhibit here in 2018 and to this day it remains one of the best exhibitions I've ever seen.  We also saw a wonderful exhibit on Fragonard 's painting a few years back. This time around I was a bit disappointed we didn't get to visit because I really wanted to see the British paintings exhibit but there's only so much time.  Right?
The Alphonse Mucha exhibit was one of the best I've ever seen and it was in the small Musee du Luxembourg! You can stroll through the gardens then make a stop here–having a lovely afternoon!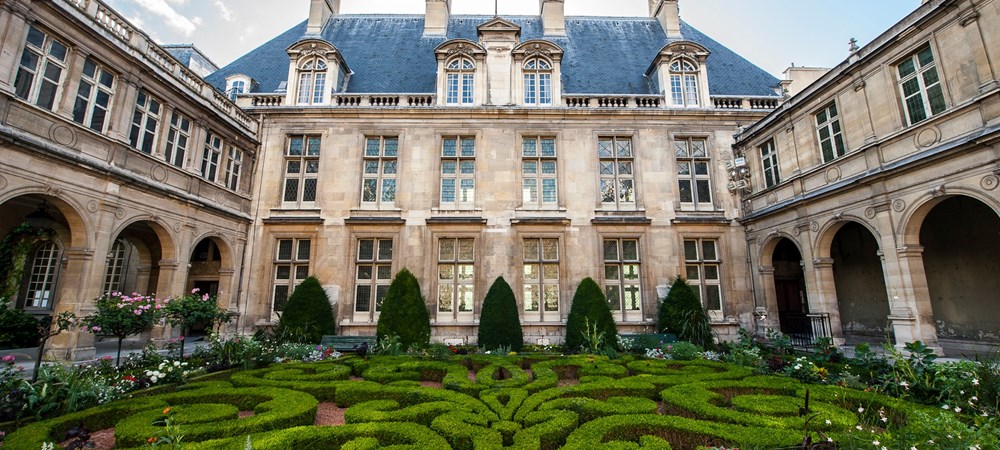 Be prepared to spend a few hours here. This is a treasure chest of all things intriguing and interesting about Paris.  I LOVED the Carnavalet and you will too!
A somber memorial, the Shoah is something that everyone should see.  It's a very moving tribute to those murdered during WWII.
Tours Anyone? I'm not adept with tour groups in the City. However, there are tour buses that you can hop on and off during the course of the day.
These buses are always full during the summer months but really–it's more fun to hoof it!
If you prefer a small, more intimate tour, might I suggest Veronique of Wander with Vero?  She works with Rick Steves so during her off-season, she is available for tours and let me tell you, I've been following her blog for years.  She's the real deal and I would trust her fully!
Tour Guide Supreme!  Veronique of Vero Tours!  Check her schedule because if you ever need a guide around Paris, she is the one you want!
Get Your $hit Together: This is important.  I'm not kidding.
Make the plane reservations as far in advance as possible. A bit of advice—I LOVE flying on Air France. However, due to the percentage of strikes that the French have, and as time is of the essence with our meager vacation time, you may want to fly a different airline. (It's in the French Constitution. Just as we have the right to bear arms, the French have the right to demonstrate in the streets!)
Be mindful. As great as Air France is, a strike can occur at any time. I know this too well! These guys should have been flying planes. Instead they were trying to dress like French girls with their Breton shirts! As I write this, the trains and metro are on strike!
Put in for your time off from work as soon as you figure out the dates you want to travel. Especially if you are traveling during the summer months. Everyone wants to take off at the same time. First served wins the plate!
If you don't have a passport, get one as far in advance as you can. If you do have a passport and haven't used it in a while, check to see if it needs to be renewed.
Make sure you call your credit card companies to let them know you will be out of the country and give them specifics dates.
Get to your cell phone company and sign up for the International Plan.  This will allow you to use Wi-Fi for a reasonable price!
Got pets? Make the reservations to board them or make arrangements for whoever will be pet sitting.
Keep abreast of the conversions and when you see a good price, buy euros in advance if you can. If you are going to be traveling for mor than I week, might I suggest getting in touch with your local police department. They will drive by your home in the evenings to "checkup". This is a very pragmatic practice and one can never have a false sense of security!
BRING AN ADAPTER!  You will want to charge your phone. Buy and adapter made for France/Europe and stick it in your travel bag. Keep it there!
Don't Overpack: My husband swears I have a very odd obsession on this subject.  But I digress.  Overpacking is a waste. A waste of time because the more you pack, the more you will waste time mulling over what to wear.  A waste of money because the airlines charge money for additional luggage these days—especially American Airlines–$60 a bag for economy flyers.  If I could pack five days of clothing in a carry on—and that's including wigs and makeup, then you can do it!   Repeat wears—nobody is judging you.  Keep a monochromatic tone.  I wear a lot of black and navy.
Five days worth of clothing, two pairs of boots, three wigs and makeup were stuffed into this.  Caveat: a blazer was placed in my husband's suitcase.
Below is a listing of clothes that I may like to suggest i for about five days in Paris. Note—in the summer, I pack mostly dresses because it's one-stop dressing.
One or two pairs of black pants  (or a pair of navy pants and a pair of black) one pair of jeans. i.e. J. Crew Pixie Pants or any knit pant works wonders. The stretch factor is ridiculously comfortable and also aids in the comfort of walking around.  In the cooler months, a pair of jeans will suffice. Besides—most restaurants have a pretty casual dress code these days.  Just dress nice. If you are going out to a local restaurant in the evening, black pants with a dressier top is sufficient.
Chippy helps to pack!  Both pairs have stretch. Trust me you want comfort and any pant with stretch will offer that.  In addition, a pont knit or any knit won't wrinkle and is comfortable for flight time!
No matter what the season, Paris can be pretty rainy. And jeans will suffice well for damp weather. These AG Jeans are light enough for all seasons yet will keep you warm in cold weather.  
Flat shoes for walking. Boots or Booties.  (In the summer, flat sandals)  My years-old Cole-Haan Air Nikes fit the bill but alas, are no longer available. Instead, might I add a stylish but comfortable shoe such as Tieks? You'll want something that can go from walking around to the possibility of dinner if you don't get the chance to change.  I also, during the cooler months bring my favorite Geox booties which I purchased at Galeries Lafayette in 2018!  Heels, kitten heels but nothing too high.  Remember, there's lots of uneven terrain and cobblestone and if you are clumsy like me, you may be prone to tripping or worse, falling. Leave the very high heels home. Please.
Quite possibly the most comfortable pair of shoes I own. However, they've been discontinued. by Cole-Haan due to the Air Nike thing.  Although I've never owned or worn Tieks, I understand they are ridiculously comfortable. They could prove to be a dupe for these!
A flat bootie such as these from Nine West are great for walking around in colder weather. I was so glad I took these on our recent trip. It was rainy and damp and these were perfect!
THE perfect bootie for dressing up a bit.  These booties by Geox were purchased at Galeries Lafayette in 2018. They have a heel but are incredibly comfortable. They were worn every night to dinner-dressed up the pants!
 Tee shirts, sweaters. Depending on the season, of course. Button-down shirts have a tendency to look fussy and sloppy at times due to the fabric. Sticking with jersey or cotton knits is a more practical choice and they don't wrinkle when packed.
Tee-shirts under sweaters is great for layering during the cooler months.  During the winter you might want to add a turtleneck or two!
For variety, pack a few different scarfs. It'll make a repeat outfit look brand spankin' new!
A colorful scarf such as this will go with every color shirt/sweater/tee you bring..
Here it is worn over a navy sweater and cheap costume pearls. 
The HG of travel makeup. So great, I have two! This is perfect for travel!
No need to bring a ton of bras with you.  Two is sufficient but bring the panties!
Jewelry? I bring the cheap stuff.  My Walmart hoops are the Holy Grail of earrings.  Less than two bucks a pair, it doesn't matter if I lose or leave them behind.  It's too stressful to worry about jewelry when traveling so the inexpensive costume stuff comes in handy!
All three items are from Walmart.  And let me tell you, nobody will be standing so close to you to judge.  Simple items that are not fussy will give a more expensive appearance!
 Make Reservations:     Make dinner reservations well in advance.  Restaurants in Paris get crowded. Especially on the weekends.  If you show up at a popular restaurant without a reservation, you could be kept waiting for over an hour. And when you do make reservations, keep a copy of the confirmation as proof.  Almost every restaurant allows you the comfort of booking a table online.  OpenTable.com is excellent.  Believe me when I tell you this is important.  An example, last year the husband and I decided that we would take a chance and make last-minute reservations at Allard and when I say "last minute" I mean the day before.  As we entered the restaurant another couple behind us walked in off the street and were turned away.  Resos are a must.  Print out the reservation confirmations, place in a folder and take the confirmation with you to the restaurant.  Please note that the restaurant listing isn't extensive. This is largely due to the fact that for many years, before Daniele's passing, we were spoiled by having meals prepared by her housekeeper.  Below are some of the places we frequent and like.
Restaurant Paul Located on Place Dauphine, I have to say, this is our favorite restaurant in Paris.  It's a neighborhood restaurant and during the day, it is where the hotshots from the Justice Department lunch.  The menu is not extensive, which is a good thing because everything is prepared fresh.  Dinner here is outstanding and during the summer, get a table outside under the awning. You'll enjoy the goings on in the square—everything from boule to musicians to kids and families out enjoying the summer days and evenings.
It's a neighborhood place.  In the summer you can eat outside.  The food is consistently great…
….and the card for you!
 Le Caveau du Palais  Next door to Paul on Place Dauphine and run by the same owners, this is another local restaurant that's also a great choice. Again, the menu is not extensive so you're sure to have a freshly-prepared meal!
Located next to Paul is Le Caveau. You can have dinner on Place Dauphine more than once!
Frenchie    It's been a while since we frequented this restaurant but I remember how impressed my foodie fans were when they found out we dined here on more than one occasion.  It's a small place but there's also a Frenchie wine bar.
Frenchie Restaurant. I can't find any of my pics from here. But I can tell you the first time we visited , it was one of the best meals I had ever eaten!
Le Procope  So enjoyable we ate there twice during our recent trip. It's noisy on the weekends.  And reservations are a The food is very good and the service is stellar! The ambiance is just so old-school.  This is a place with a wonderful and rich history so if you do get the chance, try a meal here.
Le Procope. So nice we ate there twice!  Make reservations if you do not want to wait for a table!
Allard  Truth be told.  I like this restaurant much more than the husband does.  The beef cheeks have got to be one of the best dishes I ever had in my life!  It's a wintery blend of comfort.  The restaurant has been around for many years and has changed hands.  I think it's worth a visit.
Mmm. Mmmmm.  The Floating Island dessert at Allard was outstanding!!
 Le Bonaparte–Facebook has a page but I don't do links to Facebook because Zuckerberg refuses to delete political advertising.   This iconic café on Rue Bonaparte across from Eglise St. Germain has been around for years.  In fact, the husband, Monsieur Bonaparte, used to hang here after his school days drinking coffee and smoking cigarettes.  The food is wonderful and the bistro/café vibe makes this an excellent local place. It's fun and crowded and noisy and the service is stellar!
I'm truly shocked that it took me over a decade to find out how great this cafe is!  Definitely take a meal here!
Shopping   Shopping in Paris can be fun and can also be challenging. Try to stick to products and clothing that are exclusive to France and not the States.  And you know what?  The majority of us visiting are not of the socio-economic grouping that will go on a spree at Dior, or Chanel, or Givenchy or any other haute couture fashion house.   There is a plethora of boutiques throughout the city that have beautiful clothing, accessories, shoes, purses for reasonable prices.  And the great thing is that they are unique and not something you'll find here.  Naturally, exceptions can be made but for the most part, stick to what you won't find at home!  One thing before I list—while I realize that Louis Vuitton is extremely popular, if you are searching for a LV bag, head to the boutique on Place Saint-Germain des Pres. You will thank me later because many of the LV shops, especially at Galeries Lafayette, have insanely long lines. I'm not kidding. It's crazy.
City Pharma-If you've been following my blog then you are fully aware of my love for this mecca of skincare.  It isn't a trip unless I stop here.  French brands that are ridiculously pricey in the States can be found here for a huge   The prices are insane and so are the crowds.  Get here as soon as the store opens because it can be an absolute madhouse.  Fear not though because the floor staff is adept at English and if they aren't, they will find someone who is.   I can guarantee that if you come here for the first time, it certainly won't be the last.
It isn't a trip to Paris unless I stop at CityPharma. Honestly. It's the first shopping I do.  Early in the morning before the crowds hit. I'm in and out.  Trust me, once you go here, you will NEVER go to Paris and NOT stop at CityPharma!
Fragonard  There are a ton of Fragonard boutiques throughout Paris.  I frequent the one on Blvd. St. Germain.  It is a delightful and colorful boutique with so much more to offer other than fragrance.  If you are looking for a new scent that is affordable or a gift do not bypass any of the Fragonard boutiques.
When we're in the South of France, I always stop by the Fragonard Perfumerie in Grasse.  When in Paris, I prefer the Blvd. St. Germain shop. It's adorable and I can load up on favorites.   Santal is my new HG for the winter and I can't get enough of it!
Sophie Sacs  located in a very heavily shopping location on Rue de Rennes, this is a tiny shop overstuffed with leather bags.  Nat et Nin, a wonderful but little-known brand here in the USA, is sold here.  If you are in the market for a quality bag, at an affordable price and don't want a logo bag, Sophie Sacs is the shop for you.  The people working there are really nice and helpful and the array of colorful leather is astounding.  I frequent this store a lot!  Lots!
This bag was purchased at Sophie Sacs in November of 2018.  I stinking LOVE this bag.  There are no logos. Nothing fancy. It's just a big bag in a color you don't often see. The leather is butter soft and…
It holds a TON of stuff.  I took this to Paris this November and often use it as a "travel" purse .  It cost around  100 Euros.  Another tip. Buy things that you will use on a regular rotation.  And unique!
Monoprix  Think Target—but only better.  Monoprix is a store that offers everything from food to clothing to tacky souvenirs   and the equivalent of drugstore cosmetics and toiletries—but French style.  Locations abound throughout the city, but not all locations offer what the larger Monop's might have in-store (Monop is the store's nickname). Little tip here— Monoprix brand mascara is epic.  And if you are looking for little gifts to bring back home, load up on the stores little reusable grocery bags. I've purchased these for stocking stuffers, to throw in my purses and for friends.
These little shopping sacs are priceless at 1.50 euros.  I keep one in every bag and have bought them as litte gifts.  They hold a good amount of groceries and are strong!
FNAC  Across the street from Sophie Sacs in Montparnasse, this is the location that we frequent, although there are many throughout Paris.  If you are looking for small electronics or French CD's to sate your want of French music, or movies or books, this is the place to shop.  The sales assistants are also incredibly helpful.  I had an issue with my cell phone's camera a few years back and was ready to purchase another phone. Instead, the S/A looked at my phone, clicked a button and explained to me how to fix an issue with my phone's camera.  This is a good thing to know when traveling!  In addition, the stores have a decent stationary department!
Repetto   While there is a Repetto boutique downtown NYC, I still find it easier to shop for the brand's shoes in Paris when I'm there.   These shoes can be purchased at Galeries Lafayette and the various Repetto boutiques in Paris.  I like the one on Rue du Four up the street (a ways) from City Pharma.  The sales help at the boutiques is far superior to that of the Repetto section at Galeries Lafayette
My newest pair of Repetto ballet flats.  I needed Navy.  And these are narrow-feet friendly!
Galeries Lafayette  There are two locations in Paris.  Hausmann and on the border between the 14th, 15th and top of the 6th in Montparnasse.  We shop at Haussmann. It's a beautiful department store in which everything is so well-displayed.  Bonaparte did take note that over the years, more and more brands that are sold in America seem to be taking over-but, such is globalization.  Besides, with the many brands that are not sold here, it's still a great place to shop. Each "brand" has its separate "gallery" if you will, making shopping a pretty-darned good and easy experience.  The experience has been nothing short of delightful.  Shopping for lingerie is a wonderful experience!  I had the pleasure of purchasing Princess Tam●Tam bras a while back and it was one that I'll always remember well.  Over the years, I've made many purchases here. This year it was a camel coat by the brand Jodhpur, the brand is an exclusive to the department store and designed in France but not constructed in the country.
This camel coat was purchased at Galeries Lafayette and I've been wearing it pretty-much every day!  It was on a Black Friday discount!
Le Bon Marche´  Located on Rue de Sevres in the 7th arr, this is a very pricey department store.  I can't afford the clothing here but it's fun to browse!  And the store's food/home department across the street from the department store is an experience!  The abundance of gourmet goods will make anyone's mouth water!
We browsed at Bon Marche. It's VERY pricey but we did manage to pick up Christmas cards!
Airport Shopping/Duty Free Shopping:  Don't overlook Airport shopping.  Great deals abound here!  Oona loves Chanel "Madamoiselle" perfume and my stepdaughter, Claire loves Thierry Mugler "Angel" so with each visit, I wait till our return trip and pick up the scents at CDG.  I've also picked up some great deals over the years..
Among great airport deals, these patent Repettos. I think they were under 50 euros!
And what is quite possibly, the greatest deal ever.  A Longchamp weekender that was 43 euros. Nobody wanted the color. Personally, I love it because the dirtier it gets, the less attractive it'll be to sticky fingers!
Study your Neighborhoods!  This is important! I have a cousin who stayed in the 13th arrondissement when she visited Paris for the first time. She didn't have a great time and I was so upset that she hadn't talked to me before she made her plans.
Fact is, if you are going to Paris for the first time, your best bet is to stay in a "lively" and convenient arrondissement.  The 1st, the 2nd, the 5th, the 6th, the 7th, are all areas that are bustling with activity.  Other arrondissements, while safe and very nice, may not offer the bustling activity found in the ones I mentioned.
We love the 6th!  A lively location that's convenient and has just what we need…
…and I ALWAYS stop at Carrefour to pick up my fix of Banana Juice!  Some love the wine in France. I love Banana juice!
Getting Around: It's relatively easy to get around Paris via public transport.
The Metro takes a while to figure out if you are new to the city (this coming from a woman who depended on the NYC Subway System for many years) but it is relatively safe and gets you where you want to go quickly!
Uber –get the app for your phone and you are never without transportation. A few years back we witnessed the ugly strike by the French cab drivers. They despised Uber.  But in Uber's defense, there was a time when getting a cab in Paris, unless you called G-7 cabs in advance, was nearly impossible.  We've had great experiences with Uber—immaculate cars, pleasant drivers (and I've been kicked out of a cab a couple of years ago), quick arrival and reasonable pricing.  Just make sure you're in a place with Wi-Fi when you use your app!
Cabs—Thanks to Uber, it's easier to get a cab these days. There are cab stands throughout the city and at the department stores such as Galeries Lafayette and Bon Marche, the cabs are on a line waiting for you to hop in!  Actually, it's also easy to hail a cab on the street these days.  If you want a cab at a specific time, call G-7,  it's a very reputable cab company and we've been using them for years.  If you need to get to the airport early in the morning or at any time, they are reliable and know the quickest routes—and if you book in advance, say to get to the airport, there is a fee involved but it's worth it because of the reliability factor—this comes in handy due to the many demonstrations throughout Paris.I can't say enough about G7 Cabs.  Reliable.  Clean as a whistle. The drivers know the city inside and out!  If you need to get to the airport EARLY in the morning, get a G-7!!
Your feet—Need I say more? Just remember to wear comfortable shoes or boots.  Paris was made for walking.  And you never know what treasures you'll stumble upon! And remember—no white sneakers!
Comfortable shoes are an absolute!  I've had these Cole-Haan Air Nike Ballet Flats for ten years now and they come with me on every trip.  They are only now showing wear..
More stuff to remember
Take pictures of the ordinary stuff. See a wheelbarrow outside of a café?  Take a photo.  A long line outside of a restaurant? Snap it!  The most interesting photos aren't posed or pretentious. They are the ones that catch your eye at the right moment.  You want to remember the trip through your camera's lens and oftentimes the simplest shots are the best. A store windows.  An old building.  A puddle in the rain.  Whatever strikes you, take it!
Photograph the ordinary.  This photo was taken from Bonaparte's Aunt Daniele's kitchen. I LOVED cooking in her kitchen because it was a pleasure to look at the rooftops.  To this day, this remains one of my favorite photos!
Another favorite is this random pic of a basket of croissant..
And I was astounded with the pragmatic way Christmas trees are sold. "Stands" are cut from the trunk then the tree is placed in the trunk stand.  I had to take a photo of this because I'm now obsessed as to why we don't to this in the States!
Hotels have smaller rooms. Much smaller. If you aren't at a five-star, luxury hotel (which I've never been), be mindful that the hotels throughout Paris have smaller rooms.  They are meant to sleep in, change your clothes and use the bathroom. If a room has a TV, you can bet it'll be a lot smaller than the one you have at home.  The lighting is also different. It's not as bright and I find that applying makeup is a challenge due to that and my horrific eyesight.  In addition, you might want to bring a facecloth with you. Not every hotel supplies you with facecloths (I found this particularly odd when I first visited Ireland).  Didn't bring a facecloth? Head to a store and purchase makeup wipes, you can repurpose them as washcloths.   Speaking of hotels, we've been spoiled by staying with Bonaparte's aunt, Daniele when she was alive.
Since our visits the past two years, we've stayed at Hotel Prince de Conti and although the rooms are small, this hotel's location is ridiculously convenient.
In the early morning, there is coffee in the lobby. This comes in handy whilst waiting for the cab to take you to the airport..
And might I add that the lobby is incredibly toasty warm and cozy and feels like home..
And this small hotel offers quite a hearty breakfast!
Citadines  offers a slightly different place to stay. We're mulling over staying here on our next trip because sometimes it just nice to be in a place with a kitchen. I like to cook and enjoy living more like the locals so we'll see after our research!
Airbnb We're also thinking about an Airbnb apartment but need to so some serious research.  We miss being in an apartment and aren't sure what the time restrictions are with the Airbnb's so it's a learning experience even for seasoned visitors!
Get yourself a pocket-sized guide to Paris. You do not want a huge map that you will take out randomly to showcase to others that you have no idea where you are. This isn't a wise tourist thing. There are pickpockets and other petty thieves. And although Paris is very safe, it is no different from the bad folks that are in  all large cities. Remember. That false sense of security is not a good thing.  We live in the suburbs and people have homes broken into all the time….
As you can see, this pocket guide is 8 years old now but still comes in handy…
It has pull-out maps of arrondissements. There's talk of some arrondissements being merged so I may be buying a new pocket guide in the future for big changes.
And there's a Metro Map (doesn't do good while the Metro is on strike).  This tiny book is chock-full of everything!
Honestly, I could go on and on and on but I've tried to narrow this down to the best way I could—especially if you are a first-timer to the beautiful City of Lights.
Remember. Please don't be intimidated. What you see on Social Media for the most part doesn't give a realistic view—much of it is smoke and mirrors.  Paris is a gorgeous city filled with something for every budget.  Granted it isn't cheap but it can be affordable if you do your homework and plan!
For more Paris reading, here are a few archived blog posts:  Paris in Three Days Part One (Parts two and three can be reached from the first installment)  Paris Without Daniele Part Un
That is it and I hope you enjoyed this!  I also hope I didn't come off as preachy because I can't stand that.  These are merely suggestions.  Hey!  No matter where you travel, have a great time, study the locals and be yourself!
One last thing. Check out the many book stores!  Taschen has great "coffee table" books. We purchased this for ten euros and it's a lovely reminder of Paris!