It isn't "Over the River and through the woods to Grandmother's house we go"….but is more like "Over the GW and through Riverside Drive, to Mid-town NY we go…"
As I begin to tell you about the venture from Upstate to New York City, I want to start off with this:   The last time we stayed in the City was the weekend before the big lockdown. It was the last of February/first of March and things were eerily empty.  Here's the link to that blog post so you can get a better idea for comparison's sake.
https://atypical60.com/2020/03/21/that-virus-and-a-weekend-in-new-york-city/
This time around, we were back just as The City was about to reopen.  People were on the streets without masks, and although masks were still required in establishments, there was a very different vibe.  People looked happy. And there were a lot more people on the streets as well as a lot of traffic.
If I had a dollar for every time I've passed these signs over the years, I would be able to buy a new apartment in the city!
So, we drove over the GW and took Riverside Drive HH Parkway  to Midtown. We crossed over in Central Park and decided to do a little drive to Times Square and over to the Upper East Side where Bonaparte lived when he came to The States.  We were opposites even before we met. He was an Upper East Sider and I was an Upper West Sider!   (Note to self-this is another blog post).
Here's the building I lived in from the 1970's to 1985. It was more like a dorm back then and apartments are now selling from close to a million to over a million. My luck has never been in real estate!
And here's where Bonaparte lived on the Upper East Side. Definitely more chic and refined than the old, funky building I lived in!  Opposites in every way!
It was so apparent that we are, quite possibly, returning to the pre-pandemic normal!
Check it out–definitely more people than pre-pandemic! It's good to see everyone out and about. Traffic sucks though.
We stayed at the Marriott Courtyard on Third Avenue and 53rd Street.  Before I get into how this hotel was, you need to know that we are loyal patrons of Marriott Hotels.
Thank goodness for Trip Advisor–I forgot to take a photo of the outside of the hotel. It's not very interesting though.
However, it's only steps away from the subway–which is remarkably convenient!
We used to stay at the Marriott Midtown—and that's where we stayed just before the lockdown.  Sadly, the hotel has closed—and the reason for the closing was due to the lack of business during COVID. And that's sad on so many levels because it was a grand, old-school hotel. Very elegant and very old New York.
It breaks my heart that this Marriott Hotel closed. It was such a great old-school hotel and I do hope Marriott has the wherewithall to reopen it.
Anyway, my husband decided to book a room for Saturday night at the Marriott Courtyard. And here's where my only gripe about our weekend came.  First of all, the room was great.  The bed, as with all Marriott hotels was incredibly comfortable. The views were spectacular.  The staff was friendly, helpful and fun. The room was very clean.   And we even had a large-screen TV.
In typical Marriott style, the bed was comfortable as all get out and I love the simplicity of the bed linens.
The big screen TV kind of surprised me but Bonaparte was happy!
The bathroom was fine–but I'll get to my gripe about it in a bit.  The lighting? WTF is going on with hotel lighting lately?  In Paris, horrible lighting is used in hotel rooms but the bathrooms are well-lighted. We need good lighting to get ready!!
But….and please read this carefully if you are going to be traveling any time soon.
I do believe management at Marriott took a bit of an advantage with the pandemic. It was the pricing.  Bonaparte paid $350 (tax included) for the room. For one night.  It may seem reasonable for New York City but here's where I digress.
There was no doorman to welcome us nor was there a valet to take our car. Instead, we were given a little piece of paper with a map to a garage around the corner and up the street.  After dropping the car off, the paper had to be validated for a whopping $5.00 discount.
The house restaurant, The Bistro, was closed due to the pandemic. It hadn't reopened yet.  And the oddest sight was a microwave oven in the hallway –what?????
My exact reaction upon seeing the microwave oven in the hallway. 
Even more perplexing was the placement in the bathroom of the body gel, shampoo and conditioner. These items were securely placed into a holder that was attached to the wall. You couldn't get the toiletries out.  I took a bath.  The products were a good four feet from the tub. Perfect if you were taking a shower but not so if you enjoy a relaxing soak. I had been in a serious bath tub accident years ago. I didn't need another one.
Really???  Really???? As if I'll steal these huge bottles? Bring back the sample-sized goodies please…
Take a good look at this photo.  I took it moments before soaking in the tub. Now look at the placement of the products. This is not very clumsy-person friendly. I envision many bathtub accidents almost as bad as the one I had.
While I realize you may be thinking that I'm a pain-in-the-ass with my gripes about the hotel but here's my point.  Marriott cut corners due to the pandemic—and rightly so.  However, the prices should have been lowered a bit and the amenities that were no longer available should have been a part of a slight cut in the price.  If I'm rambling, I'm sorry.  It's just that this bothers me. And if you have plans to travel any time soon, check with the hotels to see if they have returned to all their services. That's all.
The objective is for the customer to SAVE money. Not for the establishment to be stingy. Thank you.
Other than those issues I mentioned, the hotel was fine.
The views were wonderful..
And as evening approached, the views became rather magnificent.
There's something very comforting about the sight of a city all lit up in the evening.
I really cannot complain about the views we had. A corner room makes all the difference!
We walked around a bit then headed back to our room for a bit of rest before heading out to dinner.
We took a little walk around..
…and enjoyed the views from the ground.
Perhaps it's because Bonaparte and I could be creatures of habit. Or perhaps that we're just older now. But we do like to play it safe when we go out to eat.  We have our favorite places in Paris. We have our restaurants of choice in Philly.  And when we are in New York, we love having dinner at Le Relais de Venise L'entrecôte.  Honestly, it's our go-to.  Especially with my Steak/Frites lovin' Frenchman!
Ready for dinner. I did a quick change by adding a bit more makeup, changing my hair from Reeves to Finn and wearing a go-to travel dress purchased a couple of years ago at Old Navy. I love the dress so much I bought a backup and use both all year round!
The restaurant is just a couple of blocks away from the Courtyard. It was a great evening for walking!
The menu is limited. Very limited to a salad with a terrific mustard dressing; steak, cooked to your liking of rare, medium or well. And let me tell you the rare is delightfully rare. The sauce that is served over the steak is remarkable. I, as well as many, have tried to duplicate it to no avail.  And fries.  And everyone gets two helpings!  The only choices are the drinks, and dessert and the desserts are wonderful.
The salad is so simple lettuce, walnuts and dressing–but the dressing packs a punch!
Although I'm not much for fries–I'm very particular, these are great. Cooked perfectly. That sauce though. It's unbelievable. And when you love your red meat red, Le Relais delivers on it! Sorry I didn't take a photo of the dessert. I drank too much wine and forgot!
This restaurant is consistently very good.  In fact, there's one in Paris that we've yet to go to simply because there's always a line outside to get in!
As he carefully reads the wine listing, he ponders not the taste or which wine will accompany dinner to the fullest, but he wonders which wine will put me to sleep the quickest!
There's no happier sight than a Frenchman with a glass of wine and frites!  He had three helpings of the fries.  Three. And he's still lean.
And I just had a third helping of red wine!
Dinner was just as expected and with both our stomachs full, we headed back to the hotel.  Did I mention that wine puts me to sleep?  Bonaparte likes to feed wine to me when he wants to watch TV without my commentary.  Needless to say, I fell asleep as soon as we got back to the hotel.
The City after dinner.  More people now then pre-pandemic!
Did I mention we bought Milk Bread from Paris Baguette? It's great for toasting. And for loading up on carbs!
Ahhh. Sunday! We woke up and got ready.  Again, it was a struggle for me to reach the body gel from my reclining angle in the bath tub.   We got dressed and headed out to breakfast at Paris Baguette.  We are no strangers to this place. The pastries are decent and the coffee is fantastic.   In fact, we did manage to pick up a couple of goodies Saturday afternoon and enjoyed an afternoon snack.
Although not a French company, Paris Baguette is a chain of decent pastries. The croissants aren't bad but the coffee is excellent!!!!!!
Our plan was to check out of the hotel after breakfast, head to the garage to get the car, meet Roman then drive over to the West Side to the Intrepid Museum.
I'll tell you, the garage we parked the car in was the best location ever.  Across from a police station and a fire house. It doesn't get much safer than that.  Anyway, I need to give kudos to the staff of Icon Parking.  Management at this parking company must be really good because the employees were just very nice—with a good sense of humor.  Seriously.  You know you're old when you can't figure out how to scan your parking code into the little scanner at the cashier.  The staff was very helpful.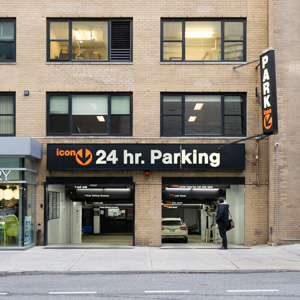 Headed to NYC?  Might I suggest Icon Parking? It's not cheap but it's better than chancing it with street parking and tickets.
I felt our car was very safe because it was housed across from a police station and fire house. How cute is this police SmartCar?
And with that, I'm ending this and will continue Part Three, our visit at The Intrepid because that museum deserves its own post!
My only regret?  Not snacking on my favorite dirty-water dogs slathered with mustart and kraut!
See you at the Intrepid! Stay Tuned!