I also got distracted!
I had photos and started to write about changing the way I dress without sacrificing my style. And I'll tell you about the distractions.
That I did. I got distracted!
First of all, I had that molar extracted. It turned out to be the easiest process ever. I thought it would be a harrowing experience. But in reality, it took Dr. Wollach less than ten minutes to yank that tooth out. I was well-numbed. Very well numbed. He explained that I would feel pressure and at any point if I felt a sharp pain to let him know immediately.
My tooth exited my mouth like a charm. Thank you Dr. Wollach!
All I felt was pressure. I even watched as he stitched the hole up. Needless to say, it was a great experience. I found myself a forever dentist and after a couple of days the soreness was gone.
And then there was overtime at work. Yes. Overtime. Our little department of three Administrative Assistants is so understaffed yet, we're needed to help all the overstaffed areas so overtime has been piling in.
Oh yes. I'm very burnt out! But the work needs to be completed!
And then…then…then..then the mother of all distractions hit my upside the head. The Christmas decorating.  The early Christmas decorating.
My Christmas Spirit arrived early this year!
Now before you start shaking your head and giving my words the side eye, please hear me out.  Christmas 2019 was sad. My brother passed away that November and it just wasn't the jolliest Christmas season ever.
A Merry Christmas Past with my, at 26 and my brother Pete at 13. I wish he was still with us!
Last Christmas was a bit better because we had one of the three kids with us. It was also the Christmas Lockdown.  My husband's daughter and her family came for dinner but nobody was welcomed unless they had Covid testing—and tested negative.  Roman came for a few days and he also tested negative. Lockdown Christmas was weird.
We never bought the yearly real tree that, to us, becomes more spectacular with each passing year. Instead, we went to a craft store and purchased a skinny, not too tall fake tree.  Jake stayed in LA. Oona was celebrating her and Sam's first Christmas in their new home and she was nearing the finish line to her pregnancy.
In true "Mom" fashion, I received a bathrobe, slippers and lots of skin care products from my son in LA!  I'm glad he'll be here this year!
I never spent weekends leading up to the Birth of Christ baking and preparing a ton of food. It was very quiet.  I think the highlight was when Roman and I drove around looking at homes lit up in Christmas splendor, to put us in the festive holiday mood.
Roman and I drove around for a couple of hours last year looking at many tastefully decorated exteriors in Wayne PA!
And so, for the first time ever, I took it upon myself to say "f*ck it" and this past weekend, I started decorating.  Not the entire house—but a good chunk of it.
I'll tell you, it was a challenge convincing both my husband AND Chippy that it was not to early to decorate!
Actually, it was exercise lugging those bins up and down the stairs. I felt empowered.  The only issue was The Frenchman. He had a look of total disgust when he saw that I decided to turn our home into a tasteful winter wonderland.  After a parade of "merde" and "ohlalala's" but not the good "ohlala's", he told me that I was being unreasonable and that decorating should not commence until after Thanksgiving.
A toasty blanket brings warmth..
A touch of red berries on the little herb basket in the kitchen..
Getting little appetizer plates ready for next month!
I even started to wear my plaid holiday shoes!
Far be it from me to not play dirty. But he mentioned this after I finished baking over a dozen Pain-aux-Raisins for him. I mentioned to him that I would stop baking his favorite pastries and would throw every single raisin-embedded spiral into the garbage if he ever mentioned anything remotely like that again.
The Pain aux Raisins AND the Kouign Amann almost made their way to the trash can instead of the freezer!
Needless to say, the pastries stayed and I decorated.
The little tree is decorated with ribbon, lights and some ornaments!
Everyone has their reasons of the timeliness of their holiday decorating.  For some, it isn't done until a couple of weeks before Christmas.  For others, the second Santa Claus makes his appearance at the Thanksgiving Day parade, it is the signal that the Christmas Season has commenced. And many take that as a cue to begin the decorating.  I've always fallen into that category.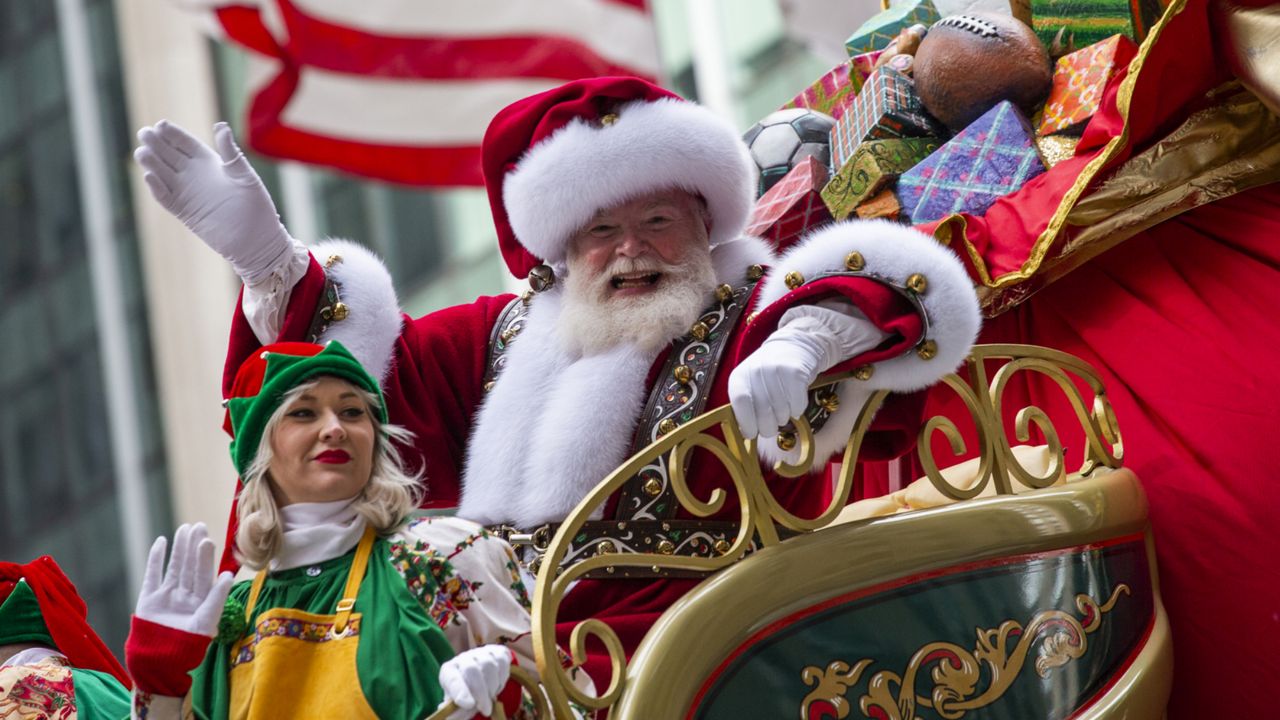 Sorry Santa, but I'm jumping ahead of you this year!
Until this year.  Granted, we'll be spending Thanksgiving in Paris. And upon our return home, there will still be time to festoon our home with the reds and greens and plaids and signs of merriment. But after thinking of how last Christmas season was just so….so…solemn as opposed to truly joyful, I just wanted a little premature happy-is-the-season!  So, I went ahead and did it.
The skinny tree from last year was not our usual. Still, I would feel bad if I kept it boxed away so now it's in our sunroom!
That skinny tree from last year?  It's now in a corner of the sunroom.  It's our secondary tree. And that suits me just fine.  There is a sense of calm and relaxation as I now sit in that little corner of our home. It's chock-full of natural light during the day and as evening enters and the tree lights go on, a very warm and cozy glow fills the little room. It's my happy spot.
And for what it's worth, the tree sits perfectly in the corner giving me pleasure to just look at it. I feel cozy!
It's the little touches…
And that fuzzy feeling i get when I sit around in my pj's with my little fuzzy friend that make me happy!
I switched out the brighter plaid ribbon on the staircase for a more rustic black and red check.  It's time to let go of elegance and bring the décor down to a more child-friendly,
All the stairways are dressed in this black and red ribbon. I went a bit rustic this year.
Santa Claus is coming over for my grandson. Even though he'll only be a month shy of one year on Christmas Eve and had no clue what's going on, it's still exciting to have Christmas with a child in the house again!
And it's all for this little ishkabibble. He's growing up so quickly and I want his first Christmas to be fun!
And right this moment, as I glance up from my laptop and look at the bare living room ahead of me, I'm able to visualize who magical it'll look when the big tree is brought in.  I'll reflect on the process of picking out the best tree we can find, then fitting it on the car. Then lugging it upstairs and getting little needles all over. Then setting the tree in the stand while the Frenchman gets frustrated because I'm not holding the tree up straight. Then he'll mumble under his breath in French—very naughty French. Then I'll get really pissed off and tell him he is a Gallic Grinch. Then we won't talk for about ten minutes. Then the tree will finally be nestled in it's stand. And I'll have to pick up all the needles from the floor. Then we'll wait until the tree's branches "fall" into place. And the room will begin to smell like the forest where the tree came from. And before the tree is decorated, while we enjoy our aperitifs—because the tree will be bought on a Saturday, we'll both laugh at how silly we were while setting up the tree. Then we'll toast and say "This is the best tree ever".
Ahh…but will we be able to match the beauty of the 2019 Christmas tree? I think so!
And with that. I wish you a very happy time if you are decorating early. If you chose not to decorate early, that's fine too—but don't judge those who opt to bring the splendor of the season into their homes sooner than later.  There's usually an underlying reason for it!
Sit down and make yourself cozy on my loveseat! Grab a cuppa tea or hot cocoa while you're at it!
I'll be working on the blog post I meant to write. Oh wait. I may do one instead on how I'm packing for Paris. Then when we get back, I'll write the original post I meant to write!
And for me, it's officially The Holiday Season when I watch John Robert's The Tree every year. Enjoy!