Skincare products.  Can we have too many of them?  As my skin continues to pro-age, I'm always on the lookout for hydrating products that don't cost a fortune.
This is just one minisule sampling of the skin care products that are in the house…
Let's face it.  The promises that luxury brands make can be so misleading.   $100 and up isn't going to make that pricey cream stop the process of aging.
Forget the $100!  16 ounces of this costs $2,160 at Neiman Marcus–but you get free shipping! I would rather put the money in a savings account for a neck lift.
If it did, we would all be strutting our stuff wrinkle-free like Perma Prest clothing—and even Perma Prest needed to be ironed!
Remember Perma Prest? My mother would iron Perma Prest clothing on the lowest setting. 
At this point, the most important quality of any skincare product I use these days is hydration.  Having skin that feels a bit plump, soft and full of moisture is paramount these days.  Nothing is getting rid of my lines except a face-lift or fillers that I cannot afford.
And for what it's worth, I use cosmetics to even out my skin tone and get rid of the redness.
I am also well-aware of supplements that are taken in capsule form or powder form and consumed because "beauty starts from the inside out".  That's why I eat vegetables and fruit.  I'm not putting any supplements into my body because who knows what the long-term effects are? I'll take my chances with putting stuff on me instead.
I know many believe in putting this stuff into their bodies.  Unh Uh not me.  I'll eat pig's feet for collgen and vegetables and fruit for vitamins.
That being said, lately, I've been intrigued  by Korean skin care products containing snail slime or snail mucin—the benefits that it is natural and moisturizing.
Would I let snails crawl on my face?  Of course I would!  But it's more pragmatic if I just buy products containing snail slime!
So off to Amazon I went and I let my fingers do the shopping at a snail's pace! (Caveat–the prices on Amazon are better than on some of the Korean brands' websites some of which are not secure sites so I didn't add links)
I did go shopping at a snail's pace
Not wanting to overspend, I limited myself to three products:
All In One Snail Repair Cream by Mizon, a Korean beauty company
The All In One Snail Repair Cream
Snail Repair Intensive Ampoule, a serum also by Mizon
Snail Repair Ampoule–a wonderful serum!
Gold and Snail Hydropatch by Petitfee, another Korean beauty company
In this little jar lies the most fun…under eye patches!
All three products contain snail slime.  All three products are extremely affordable.  For the 60 eye patches, the price was $11.15 and for the two products by Mizon, I paid $15.44 and I will purchase again.
Let's take a look at the products.
Snail Repair Intensive Ampoule, Ingredients:  Snail Secretion Filtrate, Sodium Hyaluronate, Butylene Glycol, Glycerin, Ethanol, Panthenol, Glycereth-26, Punica Granatum Extract, Theobroma Cacao (Cocoa) Extract, Carbomer, Triethanolamine, Trehalose, Copper Tripeptide-1, Human Oligopeptide-1, Palmitoyl Pentapeptide-4, Cornus Officinalis Fruit Extract, Nelumbium Speciosum Flower Extract, Caprylyl Glycol, Ethylhexylglycerin, Tropolone, Sodium Polyacrylate, Adenosine, Coptis Japonica Extract
It warms my heart to see Snail Secretion Filtrate as the first-added ingredient.  80 % in fact.  I'll say that's a darn good amount!
It's a clear thicker liquid but very moist and spreadable!
The serum is a clear substance that drops out in a perfectly round little circle.  And that one little drop spreads all over your face evenly.  It does feel refreshing and hydrating.  It did not and continues to not irritate my skin.  It has no scent and dissipates quickly.   I've been using this before I add the…
One drop is all you need because…
It spreads beautifully and oh boy–it's very hydrating!
Mizon All-In-One-Snail Repair Cream.  Ingredients:  Snail secretion filtrate, cetearyl olivate, sorbitan olivate, cetearyl alcohol, stearic acid, glyceryl stearate, hydrogenated vegetable oil, dimethicone, triethanolamine, carbomer, butylene glycol, peg/ppg-17/6 copolymer, polyacrylate-13, polyisobutene, polysorbate 20, sodium polyacrylate, caprylyl glyocol, adenosine, ethylhexylglycerin, tropolone, sodium hyaluronate, portulaca oleracea extract, betula platyphylla japonica juice, arnica montana flower extract, artemisia absinthium extract, achillea millefolium extract, gentiana lutea root extract, alcohol, camellia sinensis leaf extract, centella asiatica extract, copper tripeptide-1, Rh-oligopeptide-1, propylene glycol, rubus idaeus (raspberry) fruit extract, beta-glucan, palmitoyl pentapeptide-4, disodium edta.
There's a ton of moisture in this small jar..
….slightly tacky at first but that feeling disipates and the moisture is sealed in.
It's nice to know that this contains 92% of the snail secretion filtrate!  This feels so nice because it glides on.  Slightly tacky but very "wet" with moisture when it dries the skin feels soft.  It isn't like other moisturizers in that they can sometimes feel "filmy"—this has no filmy feel whatsoever after drying.  A small amount goes a long way!
Again.  This is no miracle product where your lines will completely disappear.  But it does give your skin a softness and suppleness that comes from hydration.
Gold & Snail Hydragel Eyepatch. Ingredients :   Water, Glycerin, Calcium Chloride, Butylene Glycol, Ceratonia Siliqua Gum, Xanthan Gum, Carrageenan, Snail Secretion Filtrate, PEG-60 Hydrogenated Castor Oil, Ethanol, Synthetic Fluorphlogopite, CI 77861, CI 77491, CI 77891, CI 77480, Disodium EDTA, Triethanolamine, Scutellaria Baicalensis Root Extract, Camellia Sinensis Leaf Extract, Houttuynia Cordata Extract, Artemisia Princeps Extract, Citrus Junos Fruit Extract, 1,2-Hexanediol, Caprylyl Glycol, Chlorphenesin, Phenoxyethanol, Methylparaben, Fragrance.
The opened jar of the silicone eye patches.  They are floating in moisture.  These feel so freaking good it's crazy!!
I was surprised to see that the Snail Secretion Filtrate was the ninth ingredient listed!  Considering water and glycerin as the first two ingredients added, though, made me realize why these patches are so moisturizing.  Do they work to get rid of wrinkles?  No. At least not for me they don't.  But—they feel so freaking refreshing on the face.  And they do plump the undereye area up.
You can see from the photo that the patch covers a good area of skin under the eyes.  I'm telling you, I LOVE these!
Proof for me—I have a cold.  And a bad one at that. I woke up this morning and yesterday morning and my eyes were puffy in a very bad way.  My eyes looked like two little slots.  Very hooded and just sick looking.  I placed one under each eye and went back to bed to relax for a while.  After 15 minutes I placed the pads on the top of my eyelids and puffiness subsided.
Before and after.  I have a really bad cold and am home from work today.  When I woke up, my eyes were so affected by this cold that they were puffy and swollen.  I did use all three products today but I relaxed in bed for a while with those patches on my eyes and the puffiness went down as you can see in the after photo.  I also have makeup on but the makeup doesn't get rid of puffy eyes!
These little silicone pads are also great at multitasking.  After using them for their original purpose, I reuse as "guards" when applying eye makeup.  They work wonders against shadow fallout and bottom lash mascara!  Of the three, this is my favorite simply because of the multitasking and the fact that my eyes feel great after using these.  I feel awake.  It's a nice feeling!
We all like affordable.  We all want products that work to some extent.  I can honestly say that these products snailed it!
Seriously.  I've been using these products for almost two weeks now and I'm pleased.  
All of these products were purchased by me on Amazon.  I'm now waiting for the snail foam cleanser and the blur/primer to arrive.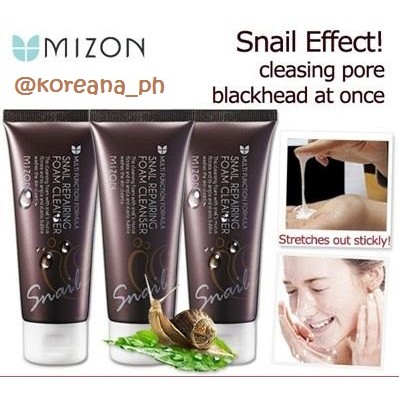 Eagerly waiting for this cleanser to arrive!
I'm interested to see how this primer works.  It isn't expensive and hopefully it will do the job of being a decent blur product!
The price was right on both.  Have a look at my Korean Beauty Product Idea List to see some of the products and browse through Amazon to check out the products. It's fun!!
You know–this whole aging skin thing can be somewhat daunting when you look in the mirror and realize that the face looking back at you has just gotten……well, old!  And we can't erase the years away but we can still look our best!  We  need to work with what we have and try new items.  I have to say, I'm glad I hopped aboard the Korean beauty train.  The prices are right!
Have you tried any Korean beauty products?  Let us know in the comments!!!  And thank you!!