If you aren't familiar with highlighters, might I suggest you take a look at one of the many random photos on Instagram of makeup artists and you'll get the full gist of what they are!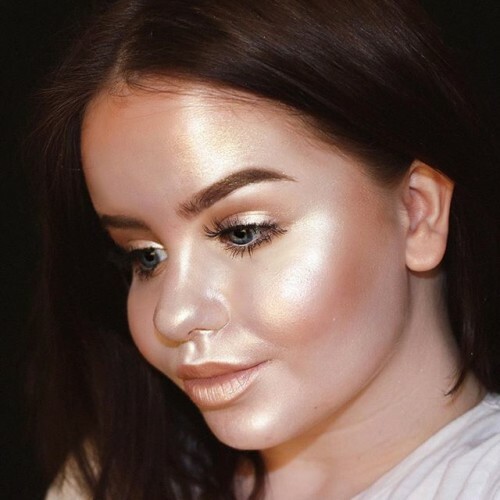 Source: Instagram/mariya.ae–This blogger made her entire face made up with highlighter.  It isn't an attractive every-day look but this makeup trend has just gone completely out of hand! Why would such a beautiful woman do this?
Yes.  Those in the makeup community seem to overdo the highlighters.  I truly don't think it is an attractive sight to see someone walking around as though they stepped into radioactive fluid.
Are we trying to look radioactive?
And I'm not too fond of walking around like the Tin Man from The Wizard of Oz unless it's for a costume party.
Who could have ever predicted that The Tin Man look would come into cosmetic fashion?  It ain't my thing–but I'm not against highlighters by any means!
But that's just me.
Anyway, there's a belief that the mature woman shouldn't wear shimmery makeup.  As in the shimmery eyeshadows, lipsticks and highlighters. I put that belief straight into the trash bin with all those other things that mature women should not wear—like hoop earrings, miniskirts and bikinis!
I almost needed a Depends when I saw this photo.  Airbrushed, photoshoped, botoxed and nowhere near upper 50's or 60's.  THIS is the beauty industry's idea of the older woman.  But her highlighting is on point!
And I'm sure that ridiculous belief that our demographic shouldn't be wearing these highlighting and illuminating products because the "experts" feel those products would accentuate and enhance our lines and wrinkles.
I'm dimly lit and that's the way I like it!!
But we  do have lines and wrinkles so the objective here is to work with and around those lines so we don't enhance the lines but that we enhance our bone structure and features.
And you know what? Highlighters can actually enhance the gorgeous bone structure  we have. They can illuminate your face and cast some dewiness.  A subtle touch is all you need.  Trust me on this one.
I am wearing the subtlest touch of highlighter here. I've worn it all summer because I love the soft glow when certain light hits your face!
My skin is on the dry side and now with the coming of the cooler weather, that dryness will surface and I've found, through trial and error that when used with a light touch, and applied subtly, highlighters can really make you look quite lovely.  The glow from the light detracts from the dryness giving a dewiness and an illumination that is very attractive on dry skin.
The lighting in this photo shows off my lines and wrinkles but I don't give a $hit. I love the soft glow on my upper cheeks and my nose and it's so understated!
There's quite a bit in my little collection.  I've got powders and creams and they all serve a purpose.  Let's take a look:
A look at my powder highlighters:  From top left  Laura Geller Baked Body Frosting, Jeffree Starr Skin Frost, Fenty Beauty Trophy Wife, Laura Geller Gelato Highlighter, Revolution Vivid Baked Highlighter.
And the non-powders:
From top left: NYX Bright Idea stick, iT cosmetics Hello Light Creme Illuminator, Wet n Wild Hello Halo and Revolution Cream Contour Palette (It's got a great highlighter inside)
The powders, below,  Laura Geller's Baked Body Frosting has a bronze glow that is fantastic on bare shoulders and legs in the summer.  It comes with a big puff but I like applying it with a hugh brush.  It's a great product that lasts forever!
Laura Geller's Baked Body Frosting is a true bronze that is flattering on all skin tones because when applied with a brush on shoulders, neck, legs, it just blends in and leaves a healthy glow.
Jeffree Starr's Skin Frost in Sarcophagus.  This is my favorite powder highlighter.  It comes in a compact but the powder is so delicate and powdery soft.  All that's needed is such a slight touch and it is beautiful.  I pretty much wear this every day!
I paid $29 for this and it was worth it because it'll be around for a long time.  I use just a touch and it gives a subtle glow..
Swatched, it is very pigmented and that's why I use such a light touch!  Everything about this is beautiful.
The Revolution Vivid Baked Highlighter has more of a pink tone.
Nicely pigmented, this is a great value for the money, I think I paid five bucks for this and it's nice on top of a rosy blush.
Laura Geller Gelato–this runs around $26. I think that's pricey considering it's not a large amount of product but a small amount goes a long way.  For the record, I did not pay $26 for this–it was part of a kit that I purchased over a year ago.
More golden than rosy this is a nice summer highlighter–it's got good pigmentation as well!
Fenty Beauty Trophy Wife.  As much as I love this–it works far better as an eyeshadow for me than a highlighter.  The yellow doesn't look that great on my cheeks.  I think this is a wonderful highlighter for all women of color and women who are olive-toned.  For fair skin, this is a great eyeshadow for special occasions, date nights and holidays!
This packs a wallop!  But the gold is too yellow for my face. It's a great eyeshadow though. Pigmented as all get out too!
The cream highlighters. These work well in the winter when skin has a tendancy to be dry.  In addition, they aren't as pigmented as the powders so it gives just a hint of glow which is actually a great thing.
Revolution Ultra Cream Contour Palette. I LOVE this contour palette. It was $12 at Ulta. I purhased it at the end of the winter and in this palette is a great highlighter. I wore this alot during the cooler weather. It glides on the skin and gives a beautiful barely-there luminosity!
Wet n Wild Hello Halo.  I like this a lot–it was really inexpensive and gives a nice rosey glow over blush. Watch out though because the doe foot applicator takes up quite a bit of product!
More of a liquid than and actual cream, this casts a pretty rose glow and I wear it on top of blush. It looks great just under where my eyeglasses it on my cheeks!
It looks pretty but you have to go super light or quite a bit of product will be deposited as you can see!  Oops!
NYX Bright Idea.  I LOVE this cream stick illuninator!  I wore this a lot last winter. It's very, very subtle and isn't very pigmented but picks up a nice amount of glow!
I have a back up of this!  That's how much I like this!!
You can see it isn't very pigmented but it's just so light and glowy and really picks up the light. If you are unsure about highlighters but would like to experiment, I strongly suggest buying this as your first highlighter!
iT Cosmetics Hello Light Creme Illuminator.  This is an unusual product because it really isn't a true cream–or creme–it's more of a powdery cream–or a cream with a powdery texture.  I've had this for a long time because it came with a brush and I'm a huge fan of iT brushes.
It isn't super-pigmented but it has a very, very light glow–this is a good one for everyday.  It's also good because it goes on so light that you can't overdo it!
The highlighter goes on last when I do my "face" in the morning.  To add a bit of glow on the cheeks, I'll use a rosier or pink-toned highlighter on top of my blush.
Ready for the office in subtle highlighter!  See–you CAN highlight without looking radioactive!
Other times, I'll take my Morphe fan brush (it came in an inexpensive brush kit) and very lightly run the brush over a powdered highlighter. Then I'll apply to my upper cheekbones, down my nose to the tip and a bit on the cupid's bow area of my mouth.  All done extremely with a light touch.
This fan brush from Morphe was in a kit. It's not the greatest quality but it gets the job done.  It doesn't pick up a lot of product so it's even better when it comes to highlighting!
Oh–before I forget–don't forget to add some highlight and shimmer to your eyes.  The color I have swatched, Oh Heavens–did it for me. It was the shade that made me make the purchase of the palette and I'm so happy that I did!!
Oh Heavens–from The Wants eyeshadow palette by The Emily Edit from Revolution! It's a gorgeous highlighting shadow!
Have fun with highlighters!  I swear, I'm having more fun with different products now than when I was younger–and for your, I've created another idea list from my Amazon page–here it is for you to peruse. I've added many of the items in this post and then some:  Highlighters and Illuminators Idea List
I'm cross-eyed as a bat naturally but I don't care!  I love a bit of highlighter on the tip of my nose!  It's all fun!  And we can't take ourselves too seriously now, can we?  So go out and have fun!
That's right ladies!  Go out and get lit!! But have fun and do it subtly!  All this talk about highlighters is reminding me of one of my favorite Spin Doctor songs–Pocket Full of Kryponite (Jimmy Olsen's Blues)!